"The smell is bad, the waste enormous, and the environmental impact appalling."

– a World Bank employee on encountering gas flaring at BP's Rumaila oilfield
BP's long-term plans for its Iraqi oilfields directly contradict the urgent need to leave fossil fuels in the ground and transition rapidly to a zero carbon world. At the moment, BP only invests 3% of its operating capital in renewables. The rest goes into extracting oil and gas, searching for more, and building infrastructure that will lock the world into continued dependence on dirty energy.
We have already shown that in many ways the people of Iraq are not benefitting from BP's presence. In fact, Iraq is already being hit hard by the climate change that BP's business model is destined to exacerbate. Rising temperatures, intense droughts, declining precipitation, desertification, salinization and the increasing prevalence of dust storms are already having an effect – and it's only going to get worse:
Iraq's mean annual temperature is expected to increase by 2°C by 2050. It will experience more frequent heatwaves, and the mean annual rainfall is projected to decrease by 9% by 2050.
This will lead to decrease in agricultural productivity, loss of arable land and an increase in the likelihood of crop failure, which in turn is likely to increase rural to urban migration. Such migration will add to the destabilising effect of displacements caused by floods and storms as well as the damage in infrastructure caused by rising sea levels and more erratic weather patterns. With Iraqi agriculture consisting of mostly small-scale farmers, this is a further hit for anyone not working for the oil sector.
Water resources will become even scarcer. As groundwater becomes depleted, saltwater intrusion will increase which will reduce availability of fresh water even further. This will lead to reduced access to safe drinking water and an increase in conflict over water both locally and – potentially – with Turkey, where the sources of the Euphrates and Tigris Rivers which supply more than half of Iraq's fresh water are located.
The reduction in access to safe drinking water will lead to an increase in water-borne diseases such as cholera; the decrease in food production will lead to an increase in malnutrition; and the increase in sand and dust storms will lead to an increase in respiratory infections.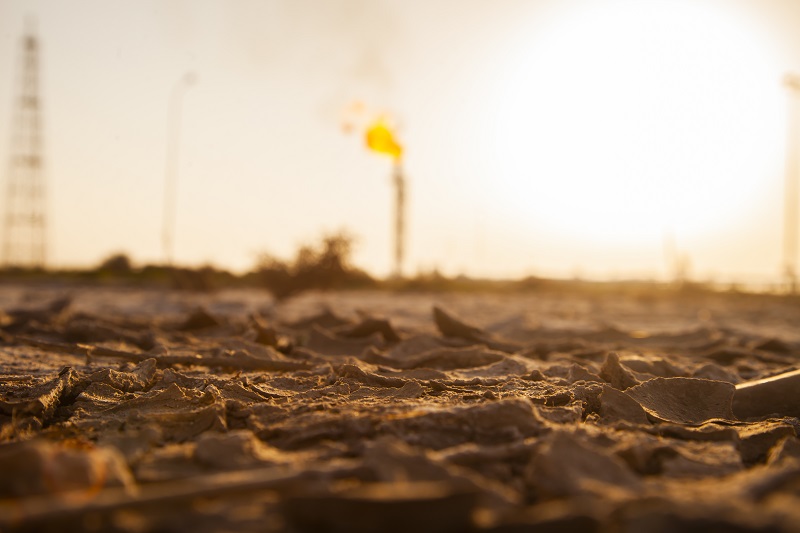 And yet BP's plans to extract increasing amounts of oil from Iraq's oilfields, for decades to come, will keep the country locked into an oil-dependent economic model that leaves it vulnerable not just to the effects of climate change but to any global or local attempts to limit oil production in response.
Gas flaring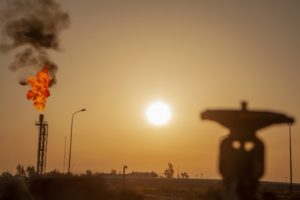 One of BP's most environmentally irresponsible activities in Iraq is gas flaring. The burning of excess gas is a common practice in the extraction of crude oil and the tapping of gas fields in Iraq. It is also very damaging:
it increases greenhouse gas emissions, releasing both CO2 and methane
it contributes to acid rain and can have a damaging effect on the chemical properties of soil around flaring sites
it increases air pollution, with the associated health implications for local residents – communities surrounding flaring sites have shown an increase in premature deaths, respiratory illnesses, asthma and cancer
In 2017 Iraq was one of the few countries in which flaring was increased, while worldwide flaring levels were reduced by 5%. This is, in part, another consequence of Western intervention as Kamil Mahdi explains:
'Gas processing plants were destroyed in 1991 by US bombing. Companies like BP have taken contracts that neglect gas processing and this has led to increased flaring. They argue that it's not their responsibility, which shows that they do not take good environmental and resource management practices seriously.'
Iraq now says it is planning to stop flaring completely from southern oilfields (which include Rumaila) by 2021, and BP has pledged to phase it out by 2030. But, as Mahdi points out, 'Iraq's plans to stop flaring gas rest largely on a separate gas-specific contract with Shell, but Shell has been making slow progress, apparently preferring to export gas rather than meet the less remunerative local demand.'
Meanwhile, years of increasing oil production – and the associated flaring practice – have seen a rise in air pollution in the region, with four new cancer cases being registered every day as a result.
__________
Continue to the next section: BP is whitewashing its activities in Iraq by sponsoring an exhibition of Iraqi culture in the British Museum
Return to the introduction: From war to warming: the shameful story of BP in Iraq