"When I saw there would be a special exhibition on my culture and my history, I was ecstatic because for once, my culture's beauty would be celebrated – but finding out the sponsor was BP was a massive slap in the face. These are the very same sponsors who advocated for the war which destroyed my homeland and slaughtered my people, all in the name of OIL. To BP and the British Museum, I say how DARE you use my culture and my history as an attempt to hide your colonialist skeletons!"

– Yasmin Younis
BP is an old hand at cultural diplomacy. For decades it has sponsored arts and culture as a way of securing its 'social license to operate'. It enjoys a much-needed boost in legitimacy by associating itself with some of the UK's most iconic institutions, such as the British Museum, the National Portrait Gallery, the Science Museum, the Royal Shakespeare Company and the Royal Opera House.
BP holds many of its corporate events in the British Museum and uses the opportunities that 'BP Exhibition' launches provide to network with government ministers and shore up relationships with foreign dignitaries. For example, at a Day of the Dead event it sponsored, BP was able to host its own private VIP reception in order to meet strategic policy-makers from the Mexican government, from whom it subsequently won a lucrative contract to drill in the Gulf of Mexico.
In the case of the British Museum, every exhibition that BP has sponsored in the last 5 years has been connected to a region where the company operates, and BP's Vice President Peter Mather, who oversees its UK sponsorship relationships, has admitted:
'When there is an option, naturally we are going to try to match a particular exhibition with somewhere we have an interest.'
It is no surprise that BP is trying to cast its operations in Iraq in a more positive light, especially in the eyes of the cultural, political and business elite who will have attended the Ashurbanipal VIP launch event and enjoyed private views of the exhibition. Recent FOI material show that this launch event was particularly important to BP's operations in a politically sensitive place like Iraq as the company's representatives unusually included its 'Group Political Advisor'. But the British Museum should not be conferring such legitimacy on such a destructive company in return for just 0.5% of its annual income. And to associate BP's logo with ancient Iraqi artefacts is deeply insensitive, especially given recent history.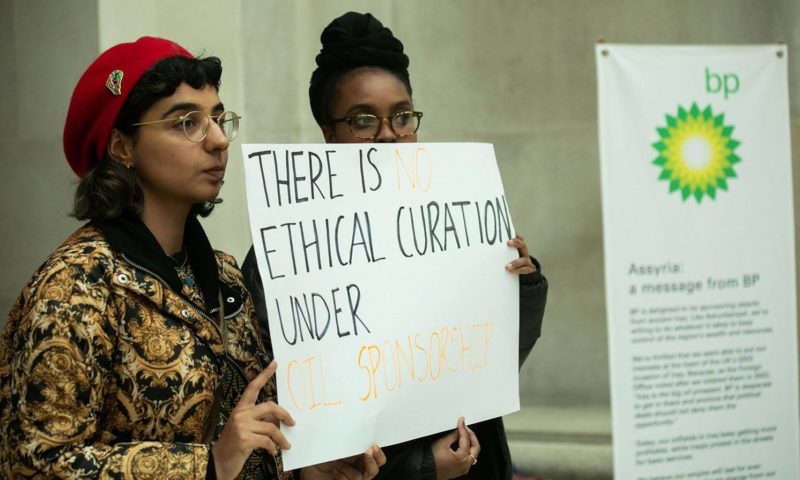 Decolonising the British Museum
The National Museum of Iraq in Baghdad is currently full of replicas. The originals are scattered around the world, in the museums of colonising countries, just as Iraq's oil wealth has been extracted and repatriated to enrich foreign oil companies. The British Museum's justification for holding on to such objects: that they are safer and better looked after in London than their country of origin, is beyond ironic in this case.
The mass looting of museums in Baghdad in 2003, and the deliberate plunder and destruction of cultural objects by Daesh in Mosul in 2014-15, were both direct consequences of the UK/US illegal invasion that BP played a significant role in lobbying for. BP sponsorship of Assyrian objects in London today is another painful reminder of this destruction. But it is also a rallying point for social movements to once again put the injustices that Iraq has suffered at the hands of successive UK governments and companies in the spotlight, and demand justice.
As the movement to decolonise museums gathers momentum, and calls for the return of looted objects get ever stronger, the British Museum needs to acknowledge its colonial foundations and mindset, and that includes dropping destructive neocolonial sponsors like BP.
Art and protest
With so many problematic issues colliding in one exhibition, it is no surprise that the British Museum is likely to see its biggest ever protest on the 16th February 2019, a date chosen as it marks the 16th anniversary of the massive global protests against the Iraq war.
Activists of Iraqi origin working with the protest organisers BP or not BP? are also putting on a rival exhibition 10 minutes' walk from the British Museum. I am British Petroleum: king of exploitation, king of injustice is an interdisciplinary exhibition of work by artists both in Iraq and in the diaspora. It will focus on uncovering the realities and consequences of BP's intervention in Iraq, in direct response to the British Museum's own exhibition.
In the words of the rival exhibition's curators,
'The objects displayed in museums are not obsolete relics; they are symbols of an ever evolving history, one through which people can trace their modern-day identities and experiences.'
This exhibition and how it is presented matters deeply, and there is no doubt that calls for cultural institutions to reconsider the role they play in rebranding the images of destructive companies and perpetuating colonial mindsets will continue to grow ever louder as resistance to BP's exploitation of Iraq continues to unfold.
__________
Return to the introduction: From war to warming: the shameful story of BP in Iraq