Contributors

We are very grateful to all the organisations and individuals who have contributed content and sources. They include:
DeSmog UK
DeSmog UK is an investigative journalism outlet dedicated to in-depth, fact-based reporting that investigates and analyses the undue influence of climate science denial and the fossil fuel industry on UK energy and climate policy. Through their news, opinion, and analysis they seek to raise the level of public discourse and restore healthy public conversation on energy and the environment.
Global Witness
Global Witness campaigns to end environmental and human rights abuses driven by the exploitation of natural resources and corruption in the global political and economic system. Their investigations show how secrecy in the oil industry entrenches corruption and props up kleptocratic regimes, and how companies are complicit in this problem. By paying bribes and doing deals in secret, they distort markets and stop citizens from knowing the value of the wealth beneath their feet, or from reaping the benefits. They advocate for transparency and other ways of changing the system.
Medact
Medact supports health professionals from all disciplines to work together towards a world in which everyone can truly achieve and exercise their human right to health. We do this through research and evidence-based campaigning for solutions to the social, political and economic conditions which damage health, deepen health inequalities and threaten peace and security.
Oil Change International
Oil Change International is a research, communication, and advocacy organization focused on exposing the true costs of fossil fuels and facilitating the coming transition towards clean energy. They produce-cutting edge research and analysis and craft strategic, incisive campaigns, supporting a diversity of strategies and tactics to challenge the influence of the fossil fuel industry.
Platform
Platform combines art, activism, education and research in one organisation, creating unique projects driven by the need for social and ecological justice. Their current campaigns focus on the social, economic and environmental impacts of the global oil industry, and their pioneering education courses, exhibitions, art events and book projects promote radical new ideas that inspire change.
Art Not Oil
Art Not Oil is a coalition of UK-based organisations campaigning to end oil sponsorship of cultural institutions. Its membership includes theatrical actorvists BP or not BP?, interventionist art collective Liberate Tate, the PCS Union Culture Group who represent many workers in museums and galleries, 350.org who campaign globally for fossil fuel divestment, and grassroots activist network London Rising Tide who first started campaigning against oil sponsorship in 2003.
Proudly Oil Sponsorship Free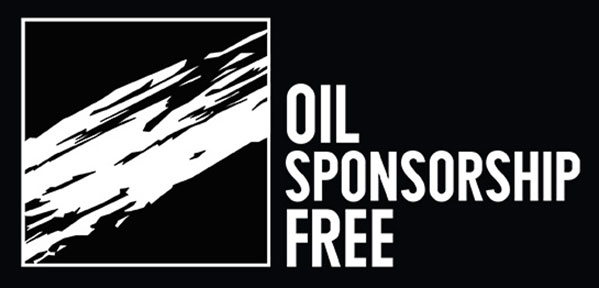 We have signed up to the Oil Sponsorship Free commitment to never take fossil fuel funding for our work. We encourage you and your organisation to do the same.