Shell-sponsored Electricity exhibition at Manchester Science and Industry Museum targeted by protesters


Manchester mayor Andy Burnham's support for Shell challenged by climate youth board

Controversy keeps growing following open letter, withdrawal of partners and 58,000-strong petition

Protesters posing as brand ambassadors for the oil giant Shell greeted guests at the launch of the Manchester Science and Industry Museum (SIM)'s new 'Electricity: the spark of life' exhibition, which marked the start of the Manchester Science Festival. The 10 activists, dressed in bright red hoodies and caps and branded with 'devil' Shell logos at first appeared to promote the company while in fact highlighting how impossible it is to defend Shell's massive extraction of fossil fuels when the world is facing climate crisis.
The @Shell promoters @McrSciFest launch were on top form. Really selling the #makethefuture brand. @sim_manchester pic.twitter.com/14qOknX4ze

— Shell Out Public Science (@ShellOutOfSci) October 18, 2018
The audacious piece of street theatre, co-ordinated by Manchester-based coalition of artists, campaigners and Manchester residents 'Shell Out!', aimed to engage with attendees of the launch and encourage them to also voice their opposition to Shell as a sponsor. The performers handed out flyers and stickers that invited guests to ask the museum: 'Why Shell?!' The campaigners want the museum to end its deal with Shell and pledge not to take funding from the company in the future. Joining the protesters, was Shell's CEO Ben van Beurden (well, sort of) who gave his own reasons for 'Why Shell':

The action comes just a week after the UN's Intergovernmental Panel on Climate Change (IPCC) published a 'game-changing' report on the steps the world needs to take to limit global warming to 1.5°C and avoid catastrophic climate change. Scientists emphasised the urgency of phasing out fossil fuels, which is at odds with Shell's business plans which are based on continuing to invest over 90% in fossil fuels and hoping that a future technical fix will remove greenhouse gases from the atmosphere.
This creative protest will intensify the growing controversy around SIM's choice of an oil company to sponsor the headline exhibition of this year's Manchester Science Festival, which so far includes:
at least three partners of the Manchester Science Festival pulling out;

a petition with over 58,000 signatories calling for Shell to be dropped;

well-respected figures including broadcaster Chris Packham and Manchester-based climate scientist Kevin Anderson calling for the museum to cut its ties to the oil giant;

mayor Andy Burnham's support for SIM's choice of sponsor being challenged by Manchester Climate Change Youth Board.
Laura Williams from Carbon Coop, one of the organisations that pulled out of the festival in protest and a founding member of the Shell Out! collective, said:
'Last week's announcement by the international scientific authority on climate change made it clear that unless we take drastic and urgent action to reduce our carbon emissions we will see frightening changes to the way that we live. Shell is already responsible for 2% of historic greenhouse gas emissions and shows no sign of changing its ways. The Museum has a responsibility to show the public Shell's true colours instead of allowing the company to be seen as a legitimate provider of future energy. If, in the words of Shell's CEO, they won't be 'going soft' on fossil fuels in the future then we have every right to question whether they have any role to play in our trusted, respected cultural spaces.'

In response to a letter raising concerns about the sponsorship sent from a member of Manchester Friends of the Earth, Mayor Andy Burnham supported the museum's choice of sponsor, saying 'we need energy companies to be part of the solution' and 'it is only by engaging in constructive dialogue that awareness of environmental issues can be raised and differences of opinion can be better understood', ignoring Shell's long record of greenwash and climate disinformation, and the company's stated commitment that over 90% of its future investments will remain in fossil fuels.
Manchester's Climate Change Youth Board have responded with the following statement:
'The Youth Board strongly believes Manchester's Museum of Science and Industry should not associate with Shell (or any company) who historically and continuously environmentally impact the planet. Companies that actively drive fossil fuels usage are exacerbating and profiting from the planetary crisis that young environmental professionals such as we board members are dedicated to resolving.'

Over the last few weeks it has been confirmed that three Dutch museums – including the Van Gogh Museum in Amsterdam – are ending their sponsorship deals with Shell, following a campaign of creative protest by the group Fossil Free Culture NL. The Science Museum Group – of which the Science and Industry Museum is a member – is already under pressure to justify its partnerships with Shell, BP and Equinor after nearly 50 leading scientists submitted a formal complaint in July arguing that the museum group is 'undermining its integrity as a scientific institution' by partnering with major fossil fuel companies, despite their continued contribution to climate change.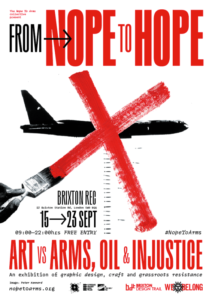 Campaigns calling for ethical funding of arts, science and cultural institutions are becoming more widespread. At the beginning of August, around 40 artists with objects on display in the Design Museum's 'Hope to Nope' exhibition removed their artworks from display after discovering the museum had allowed its building to be hired for an arms industry reception event. And in March, BAE Systems was forced to withdraw its sponsorship of the Great Exhibition of the North just a week after it was announced when large numbers of participating artists refused to have their performances associated with the arms company.
The announcement of Shell's sponsorship of the Science and Industry Museum came just weeks after the Greater Manchester region experienced large wildfires as part of a nationwide heatwave, prompting renewed debate about those that are driving climate change. Naturalist and broadcaster Chris Packham, who signed the open letter calling for the sponsorship deal to be dropped, has said:

'As the world swelters and wildlife struggles in this unprecedented heatwave, MSI has decided to partner with Shell, one of the corporations responsible for fuelling climate change. A museum dedicated to science education should not be helping promote any company that is actively exacerbating this planetary emergency until they show a serious proactive drive to switch to renewables. And thus far this is not happening.'